CD Review: Henry Lowther's Still Waters – Can't Believe, Won't Believe
Review by Roger Thomas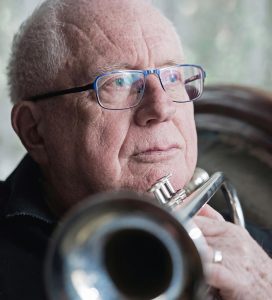 Running deep
Henry Lowther's band Still Waters releases a second album after a 20-year pause.
Henry Lowther (trumpet & flugelhorn),  Pete Hurt (tenor sax), Barry Green (piano), Dave Green (double bass),  Paul Clarvis (drums)
Village Life 171013VL 46:56 mins
Trumpeter Henry Lowther has been a creative mainstay of British jazz for half a century and he's as happy playing mainstream standards as he is duetting with a computer musician in free improvisation. He's the man who reassured Miles Davis (Dave Holland introduced them) that yes, playing jazz trumpet in a rock context was perfectly possible.  Now, a couple of decades since 1997's ID, Lowther's band Still Waters, formed to explore his compositional interests, has released a new album of gorgeous, limpid tunes that make for thoroughly seductive listening. This impeccably recorded music is by turns playful, elegant and ingenious, with Lowther's legendary warm, rich tone very much to the fore. The band is highly empathetic, with saxophonist Pete Hurt as the perfect fellow frontman and drummer Paul Clarvis knowing exactly when to give the music a cheeky prod. One to cherish.
5 stars