Henry Lowther: can't believe, won't believe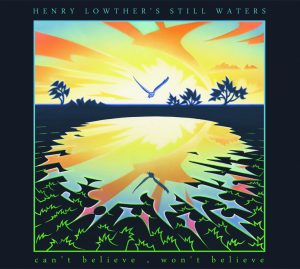 If any jazz ensemble can be said to define the word "prolific" it's
not Henry Lowther's Still Waters. The band's debut album, ID,
appeared in 1997. can't believe, won't believe is its second release, just 21 years later. Good things, as they say, come to those that wait.
Bandleader, composer and trumpeter Lowther has been a busy
professional musician for over 50 years. He played at Woodstock in 1969 with Keef Hartley, was associated with the bands of John
Dankworth, Gil Evans and George Russell and has a long history as a session player, a performer with classical ensembles including the London Philharmonic and a free improvising musician.
The pervading mood on can't believe, won't believe is relaxed and calm—the calmness that comes from a confidence in one's talent, the knowledge that there's nothing to prove. This is, after all, a quintet featuring some of the finest jazz musicians on the scene. Saxophonist Pete Hurt (Carla Bley Very Big Band, Andy Sheppard), pianist Barry Green (Ingrid Laubrock, Charles McPherson, Brigitte Beraha), bassist Dave Green (Sonny Rollins, Stan Tracey) and drummer Paul Clarvis (Herbie Hancock, John Taylor, Kenny Wheeler) are as masterful as their bandleader. The band is well-named: to quote a second cliche, still waters run deep and beneath the calm there's plenty of musical passion.
Alongside the quiet beauty of "Can't Believe, Won't Believe," "Mateja Sleeps" and "Amber," a song dedicated to Barry Green's baby daughter that quite rightly opens with the pianist's delicate
and optimistic playing, sit the slightly brasher "Saippuakauppias," the jagged "Lights Of The North Circular"—a tribute (if that's the word) to a north London highway, driven by Clarvis's insistent, darting, drums—and the more up-tempo "Something Like," Dave Green's bass pulse and Clarvis's drums crafting a rhythm subliminally inspired (according to Lowther's notes) by
Morrocan Gnawan percussion.
These six Lowther compositions are followed by the band's elegant take on "Some Other Time." It's a gorgeous version, an object lesson in "less is more," with Lowther's performance of the melody underpinned by precise, low-key, backing from the rhythm section. The album closes with the brief "For Pete," Hurt's elegy for Pete Saberton, the original Still Waters pianist who died in 2012.
So, 2018 opens with the excellent can't believe, won't believe, from the equally excellent Henry Lowther's Still Waters. The bar is set high. If the rest of 2018's jazz albums get close to the quality of this truly delightful work then it's going to be a vintage year.
4.5 stars
https://www.allaboutjazz.com/cant-believe-wont-believe-henry-lowther-village-life-review-by-brucelindsay.php