CD Review: Henry Lowther's Still Waters – Can't Believe, Won't Believe
Review by Lance

Henry Lowther (trumpet/flugel); Pete Hurt (tenor); Barry Green (piano); Dave Green (bass); Paul Clarvis (drums).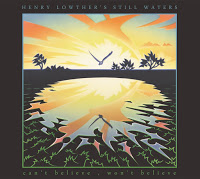 The trumpet player has long been regarded as the flashy extrovert of any band or orchestra. The stentorian tone of the instrument can drown out the loudest drummer, even, we're told, bring down the walls of Jericho. Buddy Bolden, it was said, could be heard at the other side of Lake Pontchartrain – a distance of 20 miles.
Hearing such trumpet players as Louis Armstrong, Harry James, Dizzy Gillespie, Maynard Ferguson, Arturo Sandoval, Kenny Baker and Bruce Adams live or on record serves as a further reminder of the instrument's power.
And yet, running parallel to the bombast of the above there's also another group. Players more minimalist. Introverts who, nevertheless, show that less can often be more.
Bix, Bobby Hackett, Miles, Chet and, more recently, Tomasso Stanko and Laura Jurd all belong to the latter school.
As does Henry Lowther.
This is only Henry Lowther's Still Waters' second album, the band's debut album, ID, going out in 1997, it is, nevertheless, well worth the wait. No tear-arse tempos nor, by the same token, are there any ten minutes long circular breathing exercises. Instead, it's clean, relaxed playing. It's a warm shower on a cool night, or a Pina Colada with lots of ice on a warm summer's evening. You let the music envelop you – it's more intoxicating than any cocktail – and you remember just how good a trumpet player Henry Lowther was and still is. This is Bix and the girl saying 'yes' all over again.
Up front with him, on tenor, Pete Hurt maintains the mood. Light of tone with a sackful ideas, Hurt proves the perfect partner for Lowther.  Barry Green lays down some delightful piano. No other words fit – delightful it is!  Dave Green, long the doyen of UK bassists, doesn't put a finger wrong – he never does. I could make that statement without listening to the record and I wouldn't be open to contradiction. However, I did and I wasn't!  Paul Clarvis does the job as professionally as he always does.
Six originals by Lowther, one by Hurt and Bernstein's Some Other Time. Don't ask me for the other titles. Dark text on a slightly darker background doesn't make for easy reading. Still, you don't listen to the sleeve!